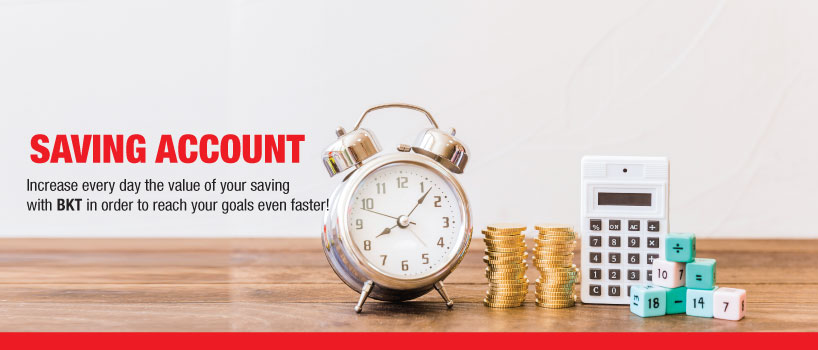 Saving Account
With BKT, the value of your savings increases every day!
Saving money for sure is not so simple, but when the savings account requires a small minimum amount it make it a good start.
In the savings account you can deposit and withdraw any time you want only by respecting the minimum required of the account. You only benefit the interest without withdrawal commission or account maintenance fee.
Why do we need to save for?
Studying
Vacation
Private insurance
Secure retirement
Better living
Medical check up
Unpredicted expenses
How can we save?
Transferring monthly benefits
Depositing often small amounts
Connecting a standing instruction with the salary account
Receiving incoming transfers
Collecting the interests of Time Deposit
Saving the balances of the end of the month
Opening process
Saving Account can be opened any time in the network branches of BKT or in Internet "Branch"
Currency: ALL, EUR, USD and GBP
Every individual client, providing a valid Identification Document can open a Saving Account in BKT.
The clients under 18 years old can open the saving account in the presence of the parent or juridical representative. Identification Document and family certificate should be provided
Credits
Saving account in BKT offered the flexibility of unlimited credit transactions.
In the saving account, any time, by every interested person may be performed deposit transactions, or credit the incoming transfers for any kind of amount.
Standing instruction eases the process to save money. From a predefined account a fix amount with a chosen periodicity will be transferred automatically in the saving account.
Interest
The higher the amount you keep on your account the higher the interest amount you profit.
You are always a winner because your saving account will never lose the gained interest even if you withdraw money from it.
The interest calculation is based on the daily balance and will be credited into the account at the end of each quarter.
As per law requirements, the bank is obligated to maintain withholding tax on bank interest provided by law and applicable at the time the interest benefit from the client.
For more information
Contact the nearest branch of BKT or Call Center in the contact number +355 4 22 66 288
Based on the law "For Deposit Insurance" no. 53/2014 dated 22.05.2014, accounts and deposits in BKT are insured up to the amount 2,500,000 (two million five hundred